CONTACT CENTER TOTAL SERVICE
Systematic business operation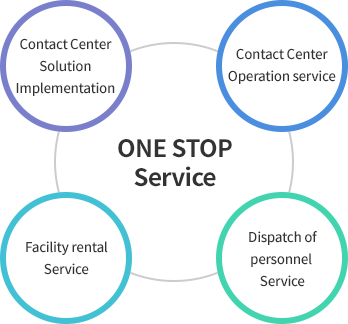 Contact Center Total Service
At MPC Plus, contact center operation and solution business are operated systematically.
We provide total service that includes contact center operation service, contact center solution
establishment, facility leasing service, and dispatch of personnel.
MPC Plus provides one-stop service from contact center construction to effective operation.
By providing high-quality services and customized systems, we offer services tailored to
the needs of each company. We also provide a variety of training and consulting services to enable
efficient contact center operations.
28 Years of Know-how
Since its foundation in 1991, MPC Plus has been striving for customer service for the past 28 years.
CRM MARKETING
CUSTOMER SERVICE
ISO 9001
EOS Certification of TSAI

Profit Centralization of 1st Base of Customer Contact Marketing
A passionate expert
MPC Plus is a group of professionals who are passionate about reading the minds of customers and companies.
The agent reads the customer's mind, and the manager understands the needs of the company to improve
the operational process.
Developers analyze customer complaints and provide solutions that address the needs of the business.
MPC Plus employees that strive to be the best in its respective fields create the quality of service.
MPC Plus employees with emotional and technical skills, contribute to the success of a business.
Training and employment
MPC Plus operates systematic step-by-step educational programs.
MPC Plus aims to hire the right personnel than to hire quickly.
Training
· Regular training based on business characteristics
· Professional and standardized curriculum operation
Recruitment
· Recruitment tailored to customer's needs
· Professional recruitment services
Sustainable Service Quality Management
Provide Customer Surprise Experience